Define a Business Law Degree
Business law is a set of rules and regulations that have been designed to bring together the corporate management and legal advice in such a manner that it helps the business. Business lawyers study business law to understand the complex business environment. Business law degree includes subjects both related to business as well as law. Hence, a business law degree bridges the gap between a business'scommercial and legal requirement
Just like other specialized types of lawyers, business lawyers also concentrate on interdisciplinary course at law school. Other than the elective course selection, they may take summer associate position in any law firm serving the corporate. Once the student graduates from a law school with specialization in business laws, he is eligible to begin legal practice either as an in-house attorney to a business organization or as an affiliated lawyer with law firm specialized in business laws.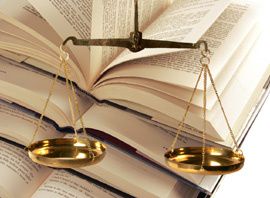 History of Business Law
Business law degree was not included in any of the United States' law school curriculums until the 1980s. Till then, the students aspiring to study business laws acquire general law degree and later join corporate or law firms. This concept was based on on-job training phenomenon. It was believed that a lawyer may get a knack of business procedures and requirements by being on the job. However, frequent changes in the business environment, financial and economical structure and certain ethical issues related to business implied the importance of specialized law in business life.
Business Law Degrees
There are several types of business law degrees, to give insight to the legal elements of a business. During an undergraduate level, business law degree includes an extensive overview of several legal aspects of any business. While opting for a graduate degree in business law involves study of thorough understanding of specific components of business laws. A graduate business law degree can be focused on accounting, finance or commerce.
Some aspiring students opt for a better option that is joint degree, involving law and management studies. Students selecting joint degrees get a MBA degree in conjunction with Jurisprudence Doctorate degree of law. Such joint degrees are offered by both law schools and business schools.
Business Law Elements
Business law encompasses various elements of business. Students studying business laws can study business law as in general. They can specialize in any one of the components of business laws such as finance, accounts, intellectual property, and commercial transactions and contracts. However, these are a few common specialization subjects, and many others are possible.
Career Benefits
A business law degree earned by a business lawyer opens various job opportunities for him. He can join government authorities, a corporate or start private practice. He can seek a job in the following domains: accounting, finance, taxation, and marketing. They can start their own business too.
A business law degree is meant to bridge the gap of communication between a business executive and a business lawyer. A business lawyer resolves various legal issues related to business by applying the knowledge gained during the interdisciplinary study at law school. Business law degree can open up several job opportunities for the pursuant.