Children Coping with Divorce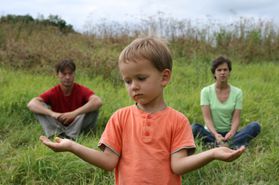 It is very difficult for the children to cope up from the depression that their parents have parted ways from each other. Divorce has a very bad effects on children. For children, it can be sad, stressful and confusing as they might start blaming themselves for the whole scenario without any fault. Parents should keep in mind that their divorce can have a life changing impact on their children, which would obviously be negative. Although, it is tough but not impossible to keep disturbing things away from kids, it is the duty of the parents to take care that heated arguments, fights and discussions should be kept away from the children. For children, to cope with divorce can be hard as many of the kids do not even know the meaning of divorce when their parents part ways from each other.
The foremost duty of the parents should be of explaining the meaning of divorce, why divorce is important to the children and explain to them that they are not the reason behind their divorce. Children can cope up with the divorce of their parents if they are explained that it is best that the parents take divorce and end their suffering rather than staying in a tumultuous relationship.
Children might become stubborn on hearing the news of divorce of their parents, they might start throwing food, declining things they are asked to do and can even start misbehaving with people they meet. It should be the prime focus of the parents to take care of the kids and be patient with them and that would eventually help children coping with divorce of their parents.
Divorce of parents also bring a lot of changes in the behavior of the children, they stop believing people and all the feelings seem fake to them, which effects their future life a lot. This is not a good sign as they might never find ideally good partner for themselves and they end up living their life all alone. It should be made clear to the children that divorce does not mean all the bad things, it also means the end of suffering because that can help children in coping with divorce of their parents.